Versatile Tabletop Art Easel: Compact Creative Solutions:
A tabletop art easel is a compact and portable device used by artists to support and display their artwork while working on a tabletop or any flat surface. Furthermore, it consists of a small stand and frame that securely holds a canvas, panel, or paper in an upright position. This easel provides stability, convenience, and versatility, allowing artists to create and showcase their artwork with ease.
The Tabletop Art Easel is a must-have for all paint by numbers enthusiasts seeking precision and convenience. This wooden easel provides a sturdy and stable surface, ensuring your painting process is a breeze from start to finish. The natural wood finish adds an elegant touch to your painting setup, enhancing the overall artistic experience.
Whether you're a seasoned artist or just beginning your creative journey, our Tabletop Art Easel is the ideal companion. Its versatility and reliability make it an invaluable tool for paint by numbers enthusiasts seeking precision, accuracy, and an enjoyable painting experience. Elevate your artwork and unlock your artistic potential with the our tabletop art easel.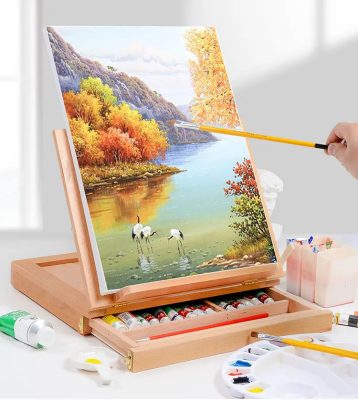 The Features of a Tabletop Art Easel For Painting:
The Multifunction Painting Easel Artist Desk is a versatile and convenient piece of equipment designed to cater to the needs of artists, painters, and creators. It provides a sturdy and adjustable platform for painting, sketching, and working on various artistic projects. Here's a detailed description of its features:
Sturdy Construction:Crafted from high-quality materials like solid wood, the Tabletop Art Easel guarantees stability and durability. Its robust design easily supports the weight of canvases, easel attachments, and various art supplies, ensuring a reliable and long-lasting performance.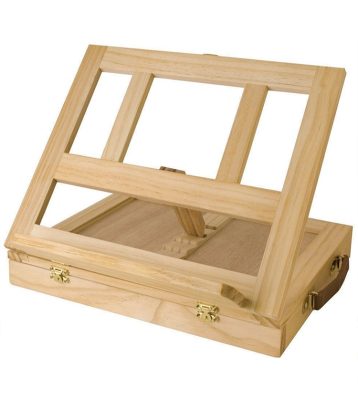 Adjustable Easel: The desk features an integrated easel that can be adjusted to different angles, allowing artists to work in both upright and reclined positions. This versatility enables artists to achieve the desired perspective and work comfortably for extended periods.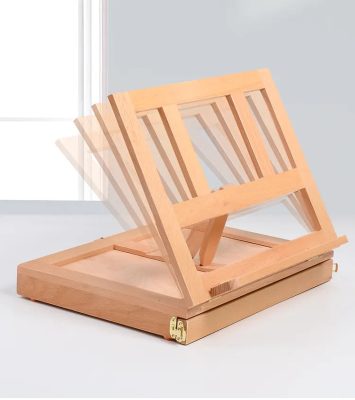 Storage Options: The Tabletop Art Easel includes a drawer to keep art supplies organized and easily accessible. This compartment can hold brushes, paints, pencils, erasers, and other tools, keeping everything within reach while working.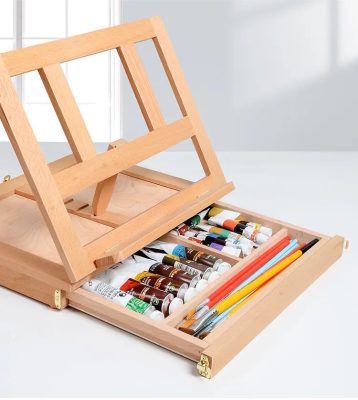 Portability: The Wooden Desk is designed to be portable. Its collapsible design, making it easy to transport and store with effortless mobility.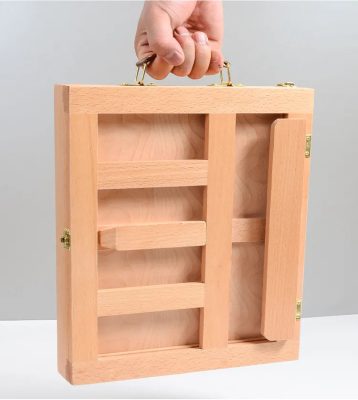 Apart from serving as an easel and work surface, this easl offer additional functions. It may convert into a writing desk, or even a display stand for finished artwork. This versatility makes it suitable for various artistic disciplines and techniques. Moreover, the desk provides a spacious work surface that is typically smooth, flat, and made of wood. This surface is ideal for sketching, drawing, painting, or any other artistic activity. It offers enough space to accommodate various sizes of canvases or paper. The multifunction wooden easel tabletop is a practical tool that combines an easel, workspace, and storage, providing artists with convenience and accessibility for their creative projects.
Specification :
Material: 

Wood

Dimensions : 33 x 25.4 x 5cm
Package Included: 1 x Easel Wood