Our aim is to provide a comprehensive Acrylic Paint Brush Set that caters to every painting technique and skill level. We invite you to peruse our collection and discover a range of high-quality artist paintbrushes that come in various bristle types, handle lengths, and styles to suit your needs. We also recommend Checking out our Detail Paint Brushes to add intricate details to your artwork.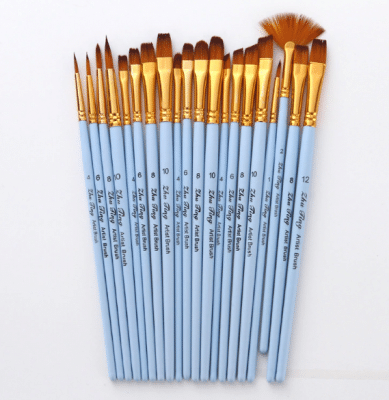 Our Paint Brush Set Features:
These paintbrushes are versatile and suitable for various painting techniques, such as Watercolor, Oil, and Acrylic Painting, as well as for Body, Nail, Face Painting, Miniature, model, ceramic, Craft Art Painting, and more. The designers have created these brushes with nylon hairs that spring back perfectly after each brush stroke, and users can easily clean and reshape them with warm soapy water and their fingers. This quality value set is perfect for both Fine Arts and Crafts and makes an excellent gift for children, friends, or anyone who enjoys painting. The brushes feature short wooden handles with a smooth finish, which provide greater control over small details.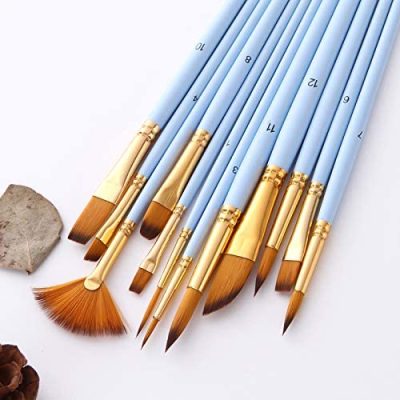 To sum up, our Paint Brushes are an excellent choice for artists seeking a brush set that is high-quality, versatile, and affordable. This set can help bring your artistic ideas to life due to its superior quality, durability, and value. Whether you're a beginner or an experienced artist, this kit is the perfect choice.
Size Chart: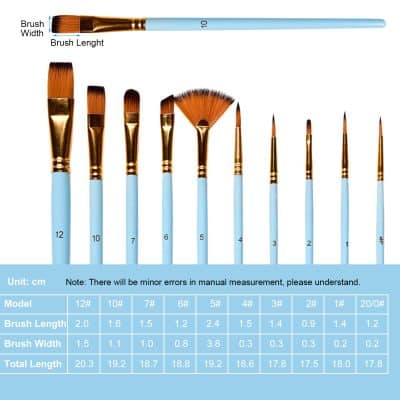 Acrylic Paint Brush Set Contains: