Everything You Need to Know About Wooden Frames For Canvas:
Take your paint by numbers art to the next level with our Wooden Frames For Canvas kit. This kit comes with 4 stretcher bars for easy assembly to fit any canvas size. The use of wooden construction for framing provides a robust and long-lasting support system for your artwork. The added protection of the wooden frame allows for the display of your art without requiring any additional framing.
Our frame kit is specifically designed to complement your paint by numbers masterpiece and let it take center stage. Morover, the metric system measurements, the slight difference when translating into inches won't be an issue. Upgrade your paint by numbers art with our Wooden Frames For Canvas kit and showcase your new masterpiece with pride.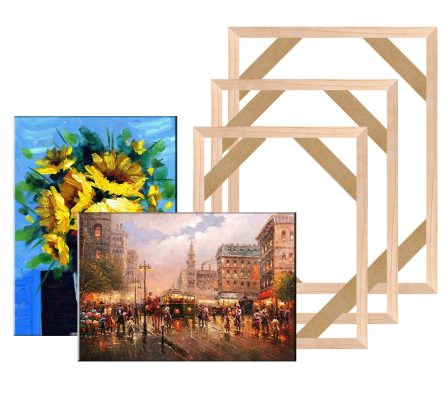 The Benefits of Wooden Frames For Canvas: Why You Need One for Your Art:
Wood frames for canvas offer several benefits that can enhance the appearance and longevity of your artwork. Here are some reasons why you may need one for your art:
Support and Stability: A wood frame provides a solid support structure that helps to prevent the canvas from warping or sagging over time, ensuring that your artwork remains in excellent condition.
Protection: The wood frame protects the edges of the canvas from damage, such as accidental bumps or scratches, which can ruin the artwork.
Easy Display: With a wood frame, your artwork can be easily displayed without the need for additional framing, as the frame itself becomes part of the artwork.
Customizable: Wood frames come in a variety of sizes and depths, allowing you to customize your frame to fit the dimensions of your canvas and desired level of depth.
Aesthetics: A wood frame adds a professional and polished touch to your artwork, making it look more finished and refined.
In summary, a wood frame for canvas offers vital support, protection, and customization options for your artwork. It prevents warping, provides stable support, and eliminates the need for extra framing, making it a valuable investment for any artist or collector.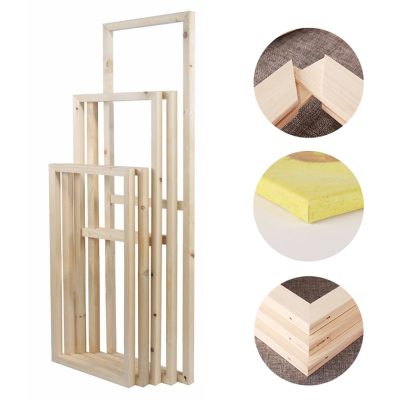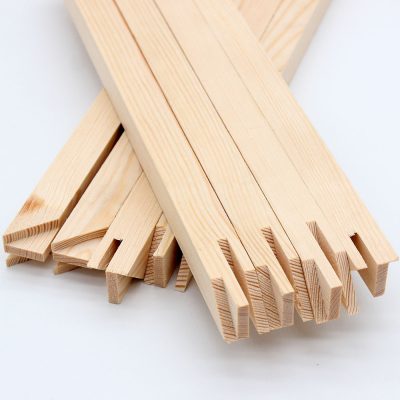 How To Frame A Paint By Numbers Canvas?
Measure your canvas: Measure the dimensions of your canvas and select a wood frame that is the same size, or slightly larger than your canvas.
Assemble the frame. Most wood frames come with four stretcher bars that fit together to create a square or rectangular shape.
Attach the canvas: Place your canvas face down on a clean surface, then place the assembled wood frame on top of it.
Fold the edges of the canvas up and over the sides of the frame. Secure the canvas to the frame with thumbtacks, pulling it tight as you work your way around the frame.
Finish the back: Once the canvas is secured to the frame, you can finish the back of the frame with thumbtacks and give it a finished look.
Hang or display: Once the frame is complete, you can hang it on the wall or display it on a shelf or easel.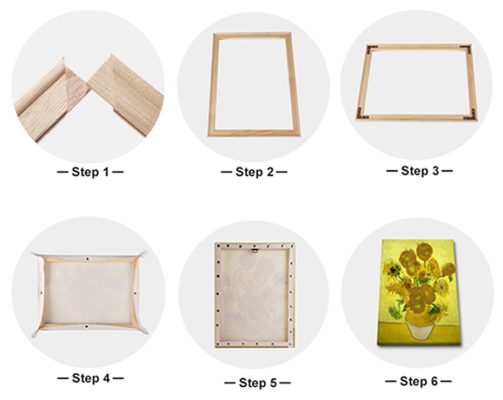 You can find more details on how to frame your canvas here.
Specifications:
Type: 

Painting Frame

Shape: 

Rectangle

with picture card: 

No

Material: 

Wood

Style: 

Modern

Pack Type: 

Multi-frame
Package includes:
1 x wooden frame.